It's that time of year again—here at The Current, we'll be giving you the lowdown on the most exciting electric cars coming into production in 2020. 2020 marks the beginning of a new decade that, for the first time in history, is preceded by an extended period of electric vehicle (EV) adoption.
So, what does that mean for the next generation of electric cars? Well, it means that EVs with incredible performance and specifications are no longer confined to the realms of driving simulators.
The electric cars listed below showcase some of the next decade's early wave of sustainable transportation. We've selected both EVs that are on the cutting edge of cleantech, and also those that will get you to work and back without any drama. Scroll down to get more details on what's to come in the not so distant future...
The hottest electric cars of 2020
Rivian R1T / Honda e / Volkswagen ID.3 / Lightyear One / Polestar 2 / BMW iX3 Tesla Roadster
Rivian R1T
We'll begin with the elephant in the room—and by elephant, we mean the Rivian R1T, that weighs about as much as one. Yes, Rivian unveiled the R1T in November 2018, but 2020 is the year when the monstrous 3,470 kg vehicle is due to go into production. With a projected 0-60 km/h time of just over three seconds (for the 135 kWh battery pack)—helped by four 147 kW motors for each wheel—this is an electric car that seemingly needs to be seen in action to be believed.
The 11 kW onboard charger means that the R1T is suitable for standard AC charging. However, 160 kW fast charging via DC stations is also an option; meaning that you can get an extra 320 kilometers (200 miles) or so of range just from 30 minutes of charging. Rivian offers three battery sizes to choose from for the R1T; 105 kWh, 135 kWh, and 180 kWh. You'll be able to get over 640 kilometers (400 miles) out of the larger battery—but if range isn't your biggest concern, you'll still be able to get over 370 kilometers (230 miles) of range from the smallest version.
These specs are yet to be independently verified, but if what's on paper translates onto the road, then this is a vehicle that could offer a genuine alternative to the gas-guzzling Ford F150...
We will update this article once we have the complete Rivian R1T specs.
---
Honda e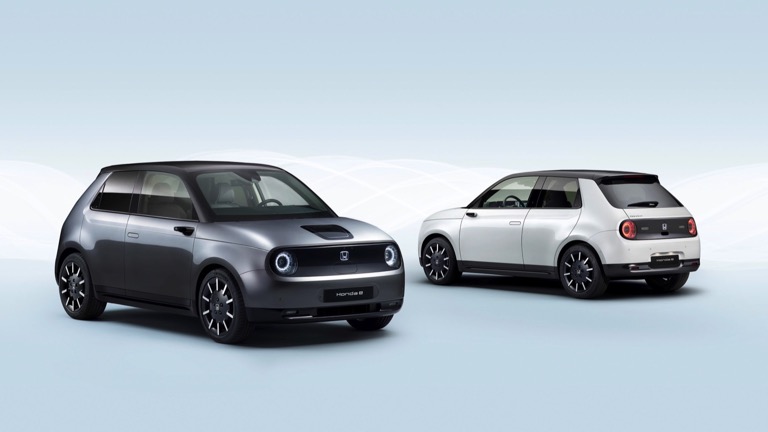 In last year's review of upcoming electric cars, we brought you news that the Honda Urban EV concept would be the Japanese firm's first venture into the EV market, but not likely to be produced at scale. The 2020 Honda e is the answer for the masses. With a 134 bhp electric motor coming as standard (with an optional upgrade to 152 bhp), the Honda e will only provide around 200 kilometers (124 miles) of range. Sure, this is more than enough for the average daily commute, but it does appear lacklustre when stacked up against other similar-sized electric cars such as Volkswagen's ID.3.
Both the Honda e and the upmarket Honda e Advance will support fast charging technology. This means that the battery can go from zero to 80 percent capacity in just 30 minutes of charging—enough for about 175 kilometers (110 miles) of range. With a starting price of €33,850 ($37,300), even before various national incentives, this is an attractive proposition, as well as a viable gateway to EV adoption.
As you would expect from Honda, the inside of the vehicle is packed with intuitive features. Honda's onboard Personal System application works much the same way as many other voice assistant services—just say "OK Honda," and then ask your car to perform an action, or (hopefully) answer any burning questions. Naturally, Honda has equipped the car with more screens than wheels—five, to be exact. In the place of rear-view mirrors are side cameras that provide a feed for left and right flanking monitors on each end of the dashboard. These surround three additional screens, which include two 12.3-inch touchscreens for in-car entertainment, as well as an 8.8-inch screen that displays all the driver instruments you'd expect to find in any traditional car.
We will update this article once we have the complete Honda e specs.
---
Another model with a summer 2020 release date is Volkswagen's ID.3—and as you've just read, it comes with impressive potential for long-distance travel. The EV model comes in three available configurations; the "Standard Range," "Mid Range," and "Long Range." With options for a 48 kWh, 63 kWh, and 82 kWh, respectively, you'll be able to get up to 450 kilometers out of the "Long Range" model. However, with prices starting at €45,000 (without incentives), the average commuter may wish to save a few euros by opting for the €30,000 standard model—even this will give you 275 kilometers (170 miles) of range on a full battery.
The ID.3 range is seen to be the early flagship offering from Volkswagen that will set them up to dominate the electric mobility scene for years to come. In case you missed it, check out our article about Volkswagen's commitment to an emission-free fleet by 2050.
See the Volkswagen ID.3 electric car specs here.
---
Lightyear One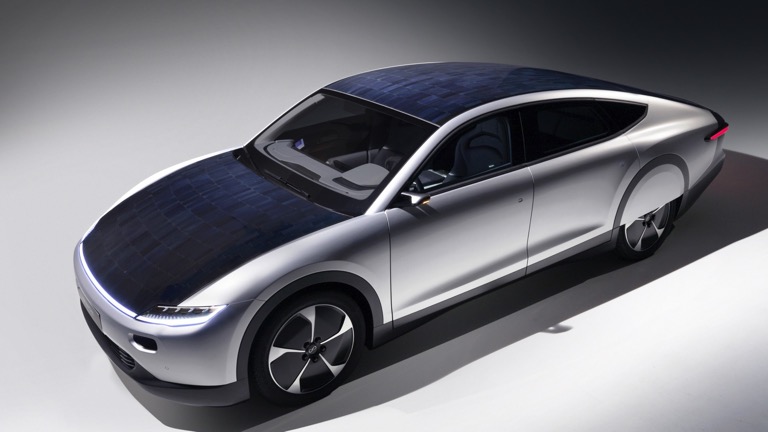 Back in 1995, Buzz Lightyear graced the big screen and delivered the iconic line "to infinity and beyond." Now, we won't pretend that the EV pictured above will take you to infinity, but compared with many EVs that have come before it, it would seem so.
Boasting a potential range of 575 kilometers (357 miles), the Lightyear One is a vehicle that could take you from London to Amsterdam, or from Chicago to Columbus (we had to Google that) on just a single charge. What's more, the Lightyear One's solar roof will provide an extra 12 kilometers of range per hour when exposed to daylight. So, in the unlikely event that you get range anxiety when driving this thing, you can be safe in the knowledge that the car has been busy thinking on its feet wheels for a solution.
If you don't fancy leaving your potential driving range up to the weather, then the 60 kWh battery can be charged to produce more than 550 kilometers (340 miles) of range in just one hour when using fast charging. However, for those not in a hurry, a 22 kW AC charger will get your battery back to 100 percent in around three and a quarter hours.
We will update this article once we have the complete Lightyear One specs.
---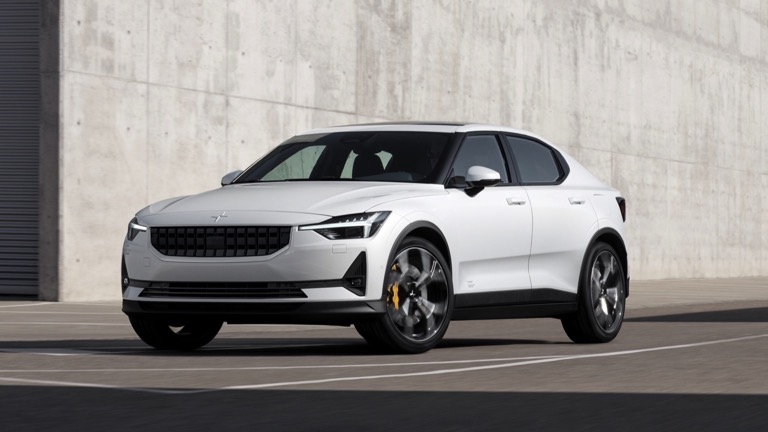 Last year, we reviewed Polestar's initial EV offering, the plug-in hybrid Polestar 1, which could only offer up to 150 kilometers (93 miles) of range on battery power alone. They have since changed their tune, claiming that the larger Polestar 2 battery is almost at one with the chassis itself. According to Polestar, the rigidity of the battery enhances the handling ability of the car, while also reducing the noise, vibration, and harshness (NVH) by 3.7dB.
Polestar claim that the car's 78 kWh battery will allow drivers to get up to 500km (310 miles) of range, though this is yet to be verified. The battery can support both 11 kW AC charging, and DC fast charging. This means you'll be able to go from zero to 100 percent in around eight and a half hours (if 500 kilometers of range is realistic), or get a quick 360 kilometers (223 miles) of range in 28 minutes on a 150kW DC fast charge.
Prices are set to start at €58,800 ($63,720) with a summer 2020 release date scheduled.
See the Polestar 2 electric car specs here.
---
BMW iX3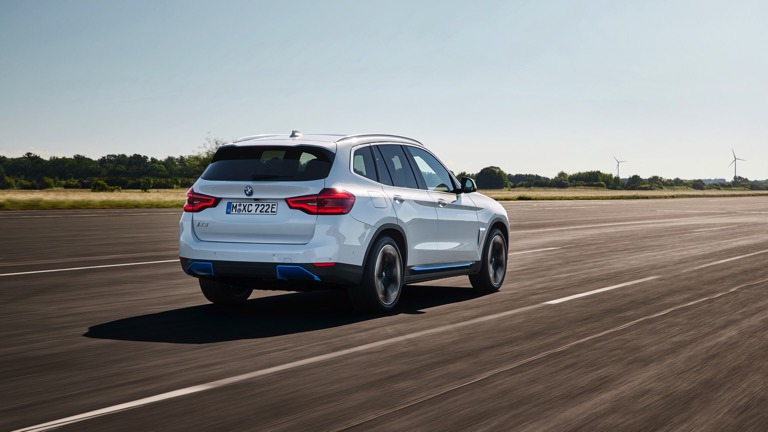 BMW has decided to electrify its popular X3 SUV, following the decision to produce a Mini electric which we discussed last year. The midsize SUV has been in production since 2003, so this is an unsurprising move from the German manufacturers. The BMW iX3 will boast a 75 kWh battery that will allow drivers to roam up to 350 kilometers on a single charge. 500 Nm of torque is produced from the 200 kW engine, which is more than the upcoming Tesla Model Y Long Range and the Audi Q4 e-tron concept!
The iX3 is limited to 200 km/h, but it'll be quick getting there. BMW reports that the EV should be able to accelerate from zero to 100 km/h in five seconds flat. As you'd expect, the iX3 supports both standard and fast charging. The battery can be fully charged using a standard 11 kW AC charger in eight and a quarter hours, while a 150 kWh fast charge speed will get you from ten to 80 percent in 28 minutes.
BMW suggests that the iX3 will be rolling off the Chinese-based production line for European orders as soon as March 2020, with prices starting at €70,000. US customers will have to wait slightly longer as there is no scheduled timeframe for an American release.
We will update this article once we have the complete BMW iX3 specs.
---
The second-generation Tesla Roadster is due to go to market in 2020. But, as always, these things are yet to be set in stone. What is certain, however, is that the Roadster will be devastatingly quick. Tesla has reported that the Roadster will get you from zero to 100 km/h in less than two seconds, from zero to 160 km/h in a little over four seconds, and will reach a maximum speed of over 400 km/h.
For a price of €43,000, this sounds unbelievable—until you realize that's just the reservation cost. It's likely that the total cost of the Roadster will be around €215,000, which may seem steep, but when comparing it to other cars that can reach speeds north of 320 km/h, it isn't all that bad. Plus, the Roadster is reported to have a potential range of 1000 kilometers and will seat four people. Not bad for an EV that can be considered in the same performance class as a Bugatti Chiron—at less than a tenth of the price.
Naturally, the Roadster supports fast charging, reaching a charging speed of up to 920km/h when using a 250 kW DC charging station. If you prefer a slow and steady approach to charging (although if you're interested in this EV, we doubt it), then the Roadster's 200 kWh battery can be charged using a slower 22 kW AC charger, though this will take the best part of 11 hours to reach 100 percent.
We will update this article when we have the complete Tesla Roadster specs.
---
The electric cars of 2020 will mean the end of (long-) range anxiety...
The electric cars listed above exemplify the leaps that electric mobility has taken when it comes to driving ranges and charge times. China continues to lead the way when it comes to EV adoption, and decreasing the potential for range anxiety has played a large part in that—in 2018, China's BEV (Battery Electric Vehicle) minimum range was increased from 100 kilometers to 150 kilometers. No wonder China accounted for 51 percent (1.1M units) of global EV sales that year (although 25 percent of this total is made up of plug-in hybrids). If manufacturers such as Volkswagen Group and BMW Group can continue to innovate, produce, and release long-range EVs, then Europe and the US have a chance of catching up. A lot can happen in a decade, after all...
If you're looking to get more acquainted with the latest electric car specifications, don't hesitate to visit our electric cars page.