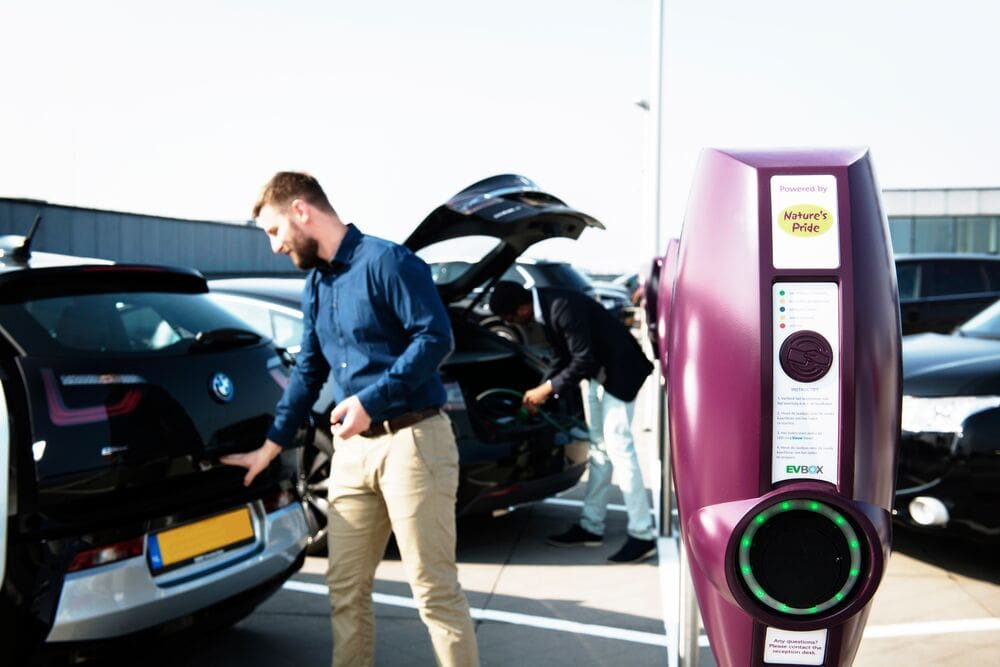 Last updated on March 3, 2023
To cut to the chase, there is no one single best EV charging station for the workplace. It all really depends on your specific needs, wants, and requirements.
To help you better identify your EV charging needs, we've came up with seven must-ask questions.
What is your EV charging business strategy?

How important is the charging speed?

How will your EV charging needs develop in the future?

What are the opportunities and restrictions of your location(s)?

Do you need a charging management system?

Can you benefit from government incentives?

What about after the purchase?



In this article we will dive into the purpose of each question in more detail.
---
Electric mobility is the future
With the rapid growth of electric mobility and the popularity of the workplace as a preferred EV charging location, many organizations are installing EV charging stations to prepare for the future.
EV charging stations come in different shapes and forms, and deciding to invest in charging stations for your workplace can be quite overwhelming. Understandably so, as electric mobility brings about many new challenges to overcome but at the same time new opportunities to tap into.
But with all these rapid changes, new terms, and fast-changing technologies. It's easy to get lost. Where to start?
In this article, we'll explore why the answer to these 7 questions are vital to identify the best EV charging solution for your workplace.
What commercial EV charging station options are there?
While EV chargers may seem similar at first glance, in reality, there are many different types, each with separate functionalities and capabilities.
For one, EV chargers differ based on the power output, and thus the charging speed they provide.
But what many people don't realize, EV charging stations are far more than a just a piece of hardware to charge batteries in cars.
Many stations offer smart charging features and are connected to intelligent charging management software, which can help your organization save cost, optimize energy efficiency, integrate renewable energy sources, manage your assets (or users), and gain valuable insights to make informed decisions.
But with so many different options available, and a general lack of knowledge, we often tend to opt for the fastest or most expensive charging station. However, it may not be the right fit for your business.
So, before deciding on a charging solution, it's essential to look at your business's needs and wants and take these into account.
The 7 must-ask questions that will help you identify the best EV charger for your workplace
1. What is your EV charging business strategy?
An important consideration when thinking about your charging needs is the business model you wish to use. There are many options and combinations possible, but generally speaking, it comes down to asking yourself this question:
Do you want to offer EV charging as an employee benefit, or do you want to offer it as a paid service that might also be available to visitors or clients, and can generate revenue?
Once you have decided on the business model that works best for your workplace, you can start thinking about the specific needs.
2. How important is the charging speed?
A decisive consideration for picking the right charger is the charging speed. Generally, the more power a charger can provide, the faster it can charge EVs.
However, with greater power comes more challenging infrastructure and expensive equipment.
For example, while a direct current (DC) fast charger can charge vehicles within minutes instead of hours, on average, it also costs ten times more than an alternative – and slower – (AC) charger. So, it is essential to consider to what extent speed is useful to your needs.
For instance, if you offer EV charging as an employee benefit only, fast chargers are probably not necessary.
Indeed, an 8-hour workday is enough to charge an EV fully with most Level 2 AC charging stations, which is much more cost-effective than DC fast chargers.
On the other hand, fast charging may be essential for EVs meant for high utilization, such as delivery vans or shared mobility vehicles. In these cases, a quick charge is crucial for keeping your fleet on the road and employees productive.
Take into consideration the size of your business as well.
How many cars will be using the charging stations? If you have a large number of EVs, yet only a small number of chargers, perhaps investing in DC fast chargers so everyone can get the chance to charge during their workday is a smart solution.
Of course, the decision to install fast or slow chargers is not an either/or scenario. In some cases, you may find that a combination of DC fast chargers and slower AC chargers for different users is the best fit. For example, you could install AC chargers to offer complimentary charging to employees while also opting for a couple of fast chargers reserved for your commercial fleet or visitors.
3. How will your charging needs evolve in the future?
As we have seen, the number of EVs on the road will increase dramatically over the next decade, reaching 59% of global sales by 2035. As a result, more of your employees, clients, and visitors will drive electric cars. At the same time, you might also be considering electrifying your fleet, which will require additional capacity.
Given the cost of installing EV chargers, it's essential to consider how your workplace's charging needs will evolve in the future. Even without concrete plans, it's worth thinking about scalability from the get-go. For example, you could consider future-proofing your business by making sure the electrical infrastructure will be able to handle future charging loads, or by ensuring enough space is left for additional chargers.
Or as Linda Grave, Founder and CEO of EV driver said in our REVOLUTION Live podcast, when discussing future-proofing your site:
"You know, we're doing all this right now with one to 2% of vehicles being electric. We need to be ready for the next stage and it's coming so quickly because you know we are snapping up electric cars as fast as they can be made." - Linda Grave
Another consideration is simply around evolving technology. EV charging is a fast-moving field, with rapid increases in charging speed and the development of new features - such as V2G and V2H, technologies we can hope to see around in the next 10 years and will change the game completely. At the same time, drivers' expectations keep changing too. So, what might be an acceptable charging speed or feature set today may not be in a few years.
4. Do you need a charging management system?
While EV chargers can act as simple connectors to the grid, it's worth considering pairing your chargers to a charging management system (CMS) to make the most of their features. A CMS brings an added level of insight and control to EV chargers, helping you make informed decisions.
For example, it can unlock data about usage and charging behavior, allowing you to set variable pricing for peak hours, or set different fees for visitors, employees, or clients. At the same time, a CMS automates billing and payments, cutting out time-consuming non-value-added tasks from employees' workflows.
A charging management system can also optimize energy use by intelligently allocating the available capacity using features such as cluster and dynamic load balancing. Not only can this maximize charger use, but also keep costs under control by increasing energy efficiency.
Charging management software and the opportunities it offers are often overlooked. Hanno Klausmeijer, Director of SAP Labs France describes how he discovered the need for charging management software –almost by accident– after already having chargers installed in this podcast about how they electrified the workfleet:
"When we installed our first charging stations, we did not connect them to the Internet. They were just connecting to electricity. That was all." - Hanno Klausmeier.
5. What are the restrictions or limitations of your specific location?
Once you have determined your charging needs, it's important to take into account the restrictions and limitations of your location. Depending on the size and type of your charging infrastructure, you might need to involve site owners or local authorities to issue the required permits, comply with zoning requirements, and establish suitable grid connections.
In any case, it's a good idea to think of the potential stakeholders and involve them early in the process: by hearing their concerns and addressing them from the beginning, you can avoid potential costly delays further down the line.
Establishing grid connection
If you need access to the grid, you need to plan it out and get started soon. Depending on your needs, these things can take longer than you may think, and you might be better off starting small while preparing to scale.
Also, if your business operates across different offices, it's vital to handle each location as separate, as they likely have different requirements and constraints, making a simple copy of a previous project unsuitable.
7. Can you benefit from government incentives?
Installing EV chargers comes at a cost, so leveraging government incentives can help reduce some of the investment. Indeed, as economies seek to transition away from fossil fuels, EV chargers are a key target for development, with many countries offering benefits or rebates for their instalment:
Taking advantage of these incentives can significantly reduce your workplace's investment.
7. What about after the purchase?
Building the charging infrastructure is only the first step in the operating life of an EV charger. Maintaining it throughout its use is essential for optimizing performance and ensuring longevity. As a faulty charger can not only leave workers dissatisfied but can also impact your operations directly if your electric fleet cannot charge.
An important aspect to consider when investing in EV charging stations is the warranty cover. While in the EU a 2-year guarantee is mandatory, many companies offer extensions for multiple years after that. Given the nature and high cost of the product, a suitable warranty cover can avoid expensive repairs if any problem arises further down the line.
Beyond warranty, EV charging companies offer a host of after-sales services, including commissioning, support, and preventive maintenance. These care plans can ensure optimal uptime through preventative maintenance and a swift —often 24/7— response in case of an issue.
Electric mobility is here to stay
Regardless of your specific industry or business model, one thing is clear: the future is electric. As societies across the world embrace electric mobility, workplaces need to consider how they can adapt to this new paradigm.
If you're thinking of switching to EVs, whether for your own operations or to satisfy employees or clients, it's essential to study your facility's needs – doing so can ensure you opt for the right solution and avoid any unnecessary costs.
We hope the above questions can help you determine your charging needs and give you an idea of what EV charger your workplace should be looking for.
Learn more about EV charging at the workplace
Identifying the right EV charging solution for your workplace goes beyond just installing charging hardware. Read our extensive guide to learn everything you should know about offering EV charging at your workplace and find out how it can boost employee satisfaction, improve your facility's reputation, and help you grow your business.