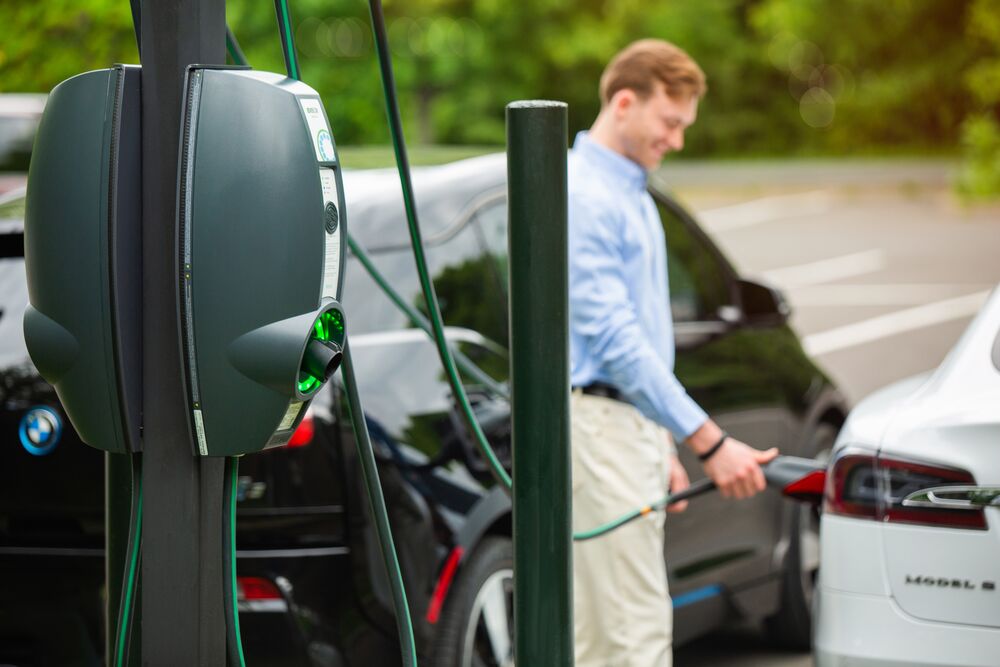 Last updated on 20th March, 2023
The rise of EVs has created a demanding need for EV charging infrastructure — Whatever happens with office culture in the future, charging at offices is expected to play a large role. Next to this, employees want more sustainable, environmentally-conscious businesses, and offering EV chargers at your office is a solution that can help you not only boost employee morale, but also create extra revenue and promote your sustainability initiatives.
Last updated on 20th March, 2023
The rise of EVs has created a demanding need for EV charging infrastructure — Whatever happens with office culture in the future, charging at offices is expected to play a large role. Next to this, employees want more sustainable, environmentally-conscious businesses, and offering EV chargers at your office is a solution that can help you not only boost employee morale, but also create extra revenue and promote your sustainability initiatives.
The challenges of the modern office continue to evolve
The employees of today are a force to be reckoned with. They have more freedom than ever before–be it to choose where they work, how they work, or what they seek in a company that they choose to call their workplace. Businesses now have to compete not only for the customer, but also offer employee benefits that go way beyond healthcare and a fair salary.
Since the Covid-19 pandemic, retaining talent and bringing the employees back to the office has been a challenge that companies have been faced with, and many factors play into this. Even with the pandemic more-so behind us, the effect of the work from home created an entire new reality that businesses are forced to deal with.
Employees' demands for an employer who undertakes meaningful action on climate change continues to grow strong. In fact, the global analytics firm Gallup found that 71 percent of employees consider just that when deciding on whether to take up a job or not. Not only that, but when an employee is satisfied with their company's societal and environmental impact, they are more likely to stay.
Over the same period, electric mobility has become a critical tool in building a sustainable future in the eyes of many. As a result, the amount of EVs on the road is exploding and this trend is only set to continue. However, the rise of EVs has overshot EV charging infrastructure — creating an increased need for charging facilities to meet this growing demand. But how do offices and EVs go together?
The total stock of charging points in Europe alone, will increase sharply from about 3 million today to close to 30 million by 2030. Workplace charging will increase from 10% today to 15% in 2030.
Workplace charging is crucial, especially for those without a home charger. People go to work for multiple hours and can charge slowly over the course of the day at low power.
In this article, we're going to dive deep into the evolution of the modern sustainable office, why more businesses are investing in EV charging infrastructure as an employee benefit, and how they're helping employers walk the talk when it comes to sustainability.
More sustainable and carbon-efficient offices
Meaningful action on sustainability has become a key expectation from employees all around the globe. And it's no surprise; with environmental challenges being felt on every continent, employees are demanding their working lives contribute to climate solutions.
In fact, 70 percent of millennials said they would prefer to work at a company with a strong sustainability agenda, and around 75 percent would actually take a smaller salary to work at an environmentally-responsible company.
To address this defined shift in employee's attitudes and demands, businesses are beginning to prioritise climate positive initiatives and focus on sustainability to boost employee satisfaction. Naturally, this goes way beyond embracing electric mobility.
One of the most obvious ways this demand is manifesting is in where employees spend (or want to spend) the majority of their working lives: the office. Even before the pandemic, sustainable and carbon efficient offices were popping up all over to signify companies' climate commitments.
"Reduce, reuse and recycle" may have worked for the previous generations, but it's not enough anymore. Companies are being urged to seek stricter commitments to sustainability with an emphasis on energy efficiency, circular economy principles and biodiversity in constructing the office of tomorrow. Certifications like BREEAM and LEED give the physical proof of long worked-for efforts.
Look at Bloomberg's new European headquarters in the City of London as an example. Rated the 'World's Most Sustainable Office Building' in 2017, the new Bloomberg office pushes the boundaries of sustainable office design. The building innovation highlights include a 73% saving in water consumption and 'smart airflow' reducing CO2 emissions by 300 metric tonnes a year. The building, hailed as one of the world's greenest office buildings, was awarded the highest BREEAM accreditation score ever for an office building.
Yet, embedding sustainability principles in buildings hasn't been limited to design and construction either. Inside modern offices, employers are turning their attention to creating a sustainable and healthy workplace. For example, many are integrating systems to increase natural ventilation and insulation, create more natural lighting, or even build green indoor spaces.
These efforts to reconnect with nature not only have a positive impact on the environment, but also actively contribute to happier, healthier and more productive employees.
And these trends will only be exacerbated by our post-pandemic world, and electric mobility and installing EV charging can help you reach even more sustainability goals, while boosting employee satisfaction.
Bring your employees back to the office
Whereas working from the office used to be non-negotiable for many companies, now it's a luxury experience. In other words, employees will only want to go back to the office if and when it satisfies their wants and needs.
A third of employees in Europe still want more remote working, a 2023 report by the European Central Bank indicated. The main culprit? Commuting.
Workers who commute more than 1 hour each way prefer 10 days working from home per month, 4 days more than those who commute less than 15 minutes.
While there has been talk pro-commuting, it is undeniable that it is a factor that brings stress to employees around the world. The bottom line is: your office needs to make your employees actually want to make the commute there, and, well, while EVs aren't the single solution that will solve the need to work from home, they can definitely help.
While we cannot control for all the stressors that commuting brings, we can for some.
When you make EV charging stations available at your workplace, you either give the option to your employees to charge their electric vehicles at work, or, if they don't have one, to buy or lease one.
You can implement free charging for employees, or discounted rates, even, to make it even more appealing.
Even though they might still have to deal with traffic and road rage, we believe we can all agree that it's far better than being cramped on the Tube or standing in the rain waiting for the next bus.
More employees will start driving electric
Even if you haven't made the switch yourself, employees are turning towards electric vehicles. In recent years, the UK, Europe and America have seen a large increase in the number of electric cars on the roads.
According to EY research, "By 2050, the percentage of electric vehicles on the road is expected to reach 65 percent in the US, up from just 2 percent estimated for 2020." In the UK and Europe, the predictions are similar. Globally, it is projected that electric vehicles will account for 80 percent of the market by 2050.
This uptake in EVs is accelerating due to a number of factors, including the fall in prices of lithium-ion batteries and EVs in general, an increase in range, lower costs for fuel and maintenance and a host of government incentives.
As the EV market continues to accelerate, the likelihood that your employees are either considering, or even already driving an EV, goes up.
The vast majority of EV drivers are more often-than-not employed full time, have a higher level of education than the average population and a median household income of $150,000 (£122,500). What's more, one in three are under 35.
Does this demographic sound familiar? It should… it's the top talent your business is searching for.
EV chargers can attract and retain top talent
In the battle for top talent, green means gold.
The employees you are looking for are, in turn, looking for a company with a strong environmental record.
EV charging attracts and retains talent because although the electric mobility transition is accelerating, public EV charging infrastructure hasn't kept up the pace. Not everyone has the option to charge at home or has a charging station in their apartment complex. As a result, employees are looking to workplaces as a charging destination and an enabler to make the switch to electric mobility.
Charging at work is extremely convenient. You plug in when you arrive and you leave your job with a fully loaded car, not having to worry about a low battery on your way home or having to look for a public charging station to complete your trajectory.
Offering this benefit to your employees will definitely become part of your EVP (employee value proposition) and will boost employee morale.
This becomes increasingly important when taking into account younger generations; 64 percent of whom won't take a job if their employer doesn't have a strong CSR policy.
Businesses are electrifying their fleet
Business fleets are a key player in the transition to electric mobility and will in turn, drive more private consumers to EVs. With almost two thirds of all new cars in Europe bought by private companies, businesses have the power to shape the direction of the EV market. In other words, if employees don't decide it themselves, businesses may make the decisions for them.
According to an EY study, "fleet electrification should lead the way and will make the biggest and fastest contribution to the decarbonisation of road transport." This creates significant opportunities for businesses to get ahead in the electric mobility ecosystem.
In line with this, many large organisations are stepping up their commitments to EVs. For example, in the UK, BP, BT, Direct Line Group, Royal Mail, ScottishPower, Severn Trent and Tesco have joined forces to create the Electric Vehicle Fleet Accelerator (EVFA) to help increase the uptake of EVs.
With more and more employees of large companies having electric experiences in company vehicles, this "new normal" will further influence employees attitudes and demands. Furthermore, by purchasing EVs first, businesses are driving forward economies of scale that can drive the prices down and make electric vehicles affordable for everyone.
One of the essential pieces of this puzzle is charging infrastructure. According to the firm McKinsey, Europe needs to achieve 3.4 million charging stations by 2030 to sustain the fully electrified fleet that it committed to. The total stock of charging points will increase sharply from about 3 million today to close to 30 million by 2030, according to ChargeUp Europe.
In the US, President Biden announced an investment of US$7.5 billion in EV charging, to encourage the push in infrastructure that needs to happen to support the fleets of electric vehicles being purchased more and more in the daily.
As this new normal materialises, charging stations will be a defining factor of whether or not employees have positive interaction with electric mobility. By making charging as accessible as possible, you're actively preparing yourself for this and being part of the solution that the world so desperately needs.
EV chargers help increase the office's reputation
Whether your business is an owner-occupier, a corporate real estate agent or an office leaser, EVs can help increase your office's reputation as a great place to work.
EV chargers stand out, literally. Anyone passing by your parking lot will notice them. Regardless of whether your employees or customers are driving an EV, they will undoubtedly take notice. Among the general public, 2/3 people say that reducing CO2 emissions in transportation is important to them. What's more, 88 percent of customers want organisations to help them improve their environmental and social footprint. Together these two factors point to one simple reality: Your office's reputation is becoming more tied to its sustainability offering.
Offering charging facilities to your customers and clients on your premises shows your company is choosing to take sustainable action. It's still only one piece of the puzzle but it's one that's more obvious for visitors than building certifications, like LEED or BREEAM, or rooftop solar panels, that can't really be seen unless really advertised.
EV chargers can increase revenue for your facility
For forward-thinking businesses and facility managers, introducing EV chargers doesn't just have to be about sustainability or their business's reputation.
In fact, many real estate businesses are creating a whole new revenue stream from EV charging. By adding public EV charging, businesses can increase their existing revenue from their assets as well as attract new customers and cross-sell additional goods or services.
With innovative new charging technology, businesses can control who has access to their stations, set their own charging prices, and even grant users access to charging management platforms based on their needs and their responsibilities.
For example, you could use a blanket strategy where everyone pays the same rate or a stratified approach where some guests (i.e., office workers) pay less than others.
Finally, EV charging stations also put your offices on maps like Google Maps or Waze. By having charging stations at your site, you can boost your brand visibility on these platforms and attract new customers.
"Clear leadership and collaboration seem key to helping ensure all is being done to effectively tackle the net zero carbon challenge," states the Future Workplaces Report 2022. "The climate emergency is a global emergency and we all have a duty to do what we can."
Read more about workplace EV charging
The benefits of equipping your workplace with EV charging stations and offering electric business cars to your employees are plentiful. But did you know that EV charging can be a way to attract customers or even generate revenue? Take a look at our free guide to discover how EV charging at the workplace goes beyond increasing employee satisfaction.